| | |
| --- | --- |
| by Linda Sheridan | January 15, 2009 |
For many of us, the word 'camp' conjures up memories of bug juice, macaroni crafts, riding on a yellow bus, and special friendships. But for some, the fondest camp memories might be winning that soccer game or basketball tournament, combined with a thirst to play the sport more frequently, to join a team. Maybe even go pro.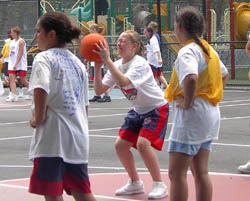 Today, between word-of-mouth and the Web, there are more choices for sports camps than ever. There are approximately 2,400 such camps registered with the American Camp Association (ACA) alone. For many parents, choosing a sports camp is a way to help a child break out of his or her shell, become more fit and confident, and learn about teamwork. It can also be an investment in a child's future — to further explore and cultivate a skill set that could be a precursor to a child's calling to become an athlete.
Listen to your child
"Try to match your child's interests, abilities and personality with the right setting. While your decision will ultimately be based on your own sense of what your son or daughter will enjoy and be challenged by, input should also come from your child. There's nothing more important than this," says Alan Saltz, director of the 52-year-old 92nd Street Y Camp Program.
In third grade, Amanda Somers* went to a basketball clinic at her grammar school in Forest Hills. It was a sport she had never played before. The following year, she joined her school's newly formed Catholic Youth Organization (CYO) basketball team. Through a fellow teammate and her coach, Amanda heard about St. Francis Prep's Terrier Basketball Camp, a two-week instructional day camp for boys and girls ages 8-14 at St. Francis Prep High School in Fresh Meadows. "It's good for girl players who want to pursue basketball. They help you work on your defense, get your endurance up, improve your shooting, dribbling skills," says Amanda, now 12. She has also made many friends whom she continues to see at competitions during the school year. "I'd say a good number of the kids I've met in camp are kids that keep returning every year." Now in her fourth year on her school team and her second year on an Amateur Athletic Union (AAU) team, she'll be returning to the camp for a fourth time this year to keep her skills sharp.
Exploring options
For kids ages 6-16, World Cup Gymnastics in Chappaqua offers a Gymnastics Camp, organized by age and level of ability, but it also offers a Sports Camp that provides a taster's choice of different sports. Samantha Shopovick, 11, a soccer player from Purchase, began attending the Sports' program three years ago, and enjoys the variety. "There's soccer, but also baseball, kickball, the trampoline is really fun. There are other activities too, like tie-dying shirts." A defense and forward for her school team, Samantha will be returning to the camp again this year.

There are many camps that provide multi-sports programs, such as Aviator Sports and Recreation's All-Star Day Camp program in Brooklyn. Kids can sign up for one week or eight, and the program incorporates instruction in a variety of sports, including soccer, gymnastics, basketball, hockey and lacrosse. Every Friday, there are sports-themed trips, peppered with special sports personality guest visits throughout the camp season.
Sleepaway, sports and faith
After attending one of 92nd Street Y's week-long day camps, Zoe Urban from Chelsea, then 9, decided she wanted to try sleepaway camp. "I was nervous, but I'd been to sleepaway camp as a child and I knew what an important experience it was to have," says mom Lisa. She signed Zoe up for the Kesher program at the 92nd Street Y's affiliate, NJY's Camp Nah-Jee-Wah, a Jewish camp that is just one of NJY's specialty summer camp programs in Milford, Pennsylvania. The camp balances sports and fun with faith, as campers eat kosher and celebrate the Sabbath.

With time, Zoe developed an interest in tennis. "Tennis is my favorite sport, and I wanted to improve," she says. The following year, she signed up for the camp again, this time for eight weeks, with tennis as her specialty. "After breakfast, there'd be two sessions of tennis, then lunch, rest hour, and then two more sessions. It helped me a lot. The counselors were amazing." Zoe has signed up to attend NJY again this year, though she is torn between following through with tennis or taking up another budding interest, basketball. "I don't know if I want to be an athlete when I grow up," she says, "but I really love sports."
For older kids who are already on a team and want to keep fit during the summer months, Queens College is introducing a new six-week Elite Sports Camp for athletes ages 13-18. Located in the College's Fitzgerald Gymnasium, the camp is a conditioning program designed to improve on-field performance and decrease the risk of injury, focusing on strength, speed, agility and quickness.

A professional staff
Camps such as NJY not only offer a plethora of options, but many of the staffers are experts in their field and have a hands-on presence at the camp. For example, their Herb Brown Basketball Program is headed by Herb Brown, a former coach for the Detroit Pistons and the head coach of the U.S. Men's Basketball Team at the World Maccabiah Games in Israel (Brown is also currently the assistant coach for the Atlanta Hawks). At Chelsea Piers, their Gymnastics Program for kids ages preschoolers through 14 is run by Olympic Bronze Medalist Peter Kormann. At the NY Knicks' Summer Camp, campers meet with the players themselves, including Nate Robinson and Steve Nash, in addition to many other basketball personalities. "We are trying to teach basketball to our campers the way it should be played," says Knicks' Camp Director Marty Riger. "Team defense, always looking out for each other, total team play. It doesn't matter who scores, it only matters that we score."

"Knicks camp is for kids who want to experience a good brand of teaching basketball and the proper fundamentals of the game, what it takes to be a good player and a chance to meet Knicks players and legends as well as
NBA players from other teams that are visiting New York," explains former Knick Guard, John Starks. Former Knick Guard and Basketball Hall of Famer, Dick McGuire, advocates that "Knicks Summer Basketball Camp gives parents a chance to feel good that their kids are learning basketball from the best teachers around."

Safety, insurance, communication
Although some camps are accredited by organizations that require the facilities meet certain safety standards (e.g. the ACA), parents should check out the camp's track record. Safety inspection reports and/or accident reports also may be available.

Parents should also check out the ages, credentials and screening/training of staff members, including the camp director and camp counselors.
Many camps request campers take a physical and submit a 'standard' medical form listing a child's health history, including information about immunizations, past health problems and allergies.

Find out how the camp handles first aid services, including injuries and illnesses, and where the nearest hospital is. If there's an emergency, parents should find out how they'll be contacted, or how to directly contact the camp/counselor.
Also, many camps require that a child be covered by medical insurance. Some camps provide medical or accident insurance (generally for a fee).

When in doubt, ask
Not sure of the answer? Ask questions. "Make sure the camp promotes the kind of values you want your child to have," says Saltz. "Ask about the camp's philosophy; what a typical day is like; is the schedule structured or loose? What's camper-to-counselor ratio?"

Talk to other parents
Word of mouth is still a powerful tool. Get feedback from other parents.

* Name changed by request

WEB RESOURCES
American Camping Association
www.acacamps.com
Find out if your camp of choice is accredited by the ACA.

Summer on Campus
www.summeroncampus.com
College-based summer camp programs throughout New York State.

Resources for Children with Special Needs
www.resourcesnycdatabase.org
Access their database for free information on camps for children ages newborn-26 classified by category, service, organization or age.

Association of Jewish Sponsored Camps (AJSC)
www.jewishcamps.org

United States Sports Camps
www.ussportscamps.com
Lists more than 500 camps in 15 sports around the country, by state

Camp Countdown
www.campcountdown.com
A cache of information about the more than 4,000 private sleepaway or "residential" camps that are in the United States, with articles and links.

Camp Page
www.camppage.com
Specializes in listings of sleepaway and wilderness camp programs in both the United States and Canada.

My Summer Camps
www.mysummercamps.com
Search camps nationwide by specialty and state.